Clone trooper
Information
Home World:
Rank:

Trooper

Species:

Human (clone)

Gender:

Male

Height:

1.83 meters (Average)

Hair color:

Black (others die their hair)

Eye color:

Brown (Various)

Unit:
Era(s):
Clone trooper or clones are troopers used by the Galactic Republic during the Clone Wars era. Clone troopers are different sizes and have many different personalities. They were then obsoleted by the Stormtroopers of the Galactic Empire.
BARC Trooper
Clone Admiral
Characteristics
Edit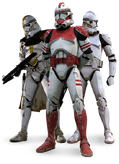 Grown at an accelerated rate and raised in the laboratories and facilities of Kamino, the clone troopers are trained throughout the first ten years of their lives to become one of the most efficient military forces in galactic history. Bred for the sole purpose of combat, the clones are indoctrinated with unwavering obedience to the Galactic Republic and—more specifically—their Commander-in-Chief, the Supreme Chancellor.
For roughly three years, the clone troopers fought to defend Republic sovereignty against the Separatist rebellion. Throughout the conflict, Jedi Generals serve as commanders and generals of the Grand Army and, thus, they serve alongside their clone soldiers on many occasions.
Community content is available under
CC-BY-SA
unless otherwise noted.