Galactic Empire
Political information
Type of government

Empire

Founding document

Declaration of a New Order

Constitution

Imperial Charter

Head of State
Head of Government
Commander-in-chief
Military Branch 
De facto leader

Emperor Palpatine

Executive branch

Imperial Ruling Council
Central Committee of Grand Moffs
Interim Ruling Council
Diet of Imperial Planetary Governors

Legislative branch

Diet of Imperial Planetary Governors

Judicial branch

Supreme Court
Regional Courts
Procurator of Justice

Societal information
Capital
Official language

Imperial Basic

Currency
State religious body

Order of the Sith Lords and Dark Side Adepts

National holiday

Empire Day

Historical information
Formed from
Era(s)
The Galactic Empire, (GE) known throughout the story as The Empire, is a galactic movement led by Emperor Palpatine to replace the Galactic Republic and establish Sith rule throughout the galaxy. The Republic, which had stood for over 25,000 years, was dissolved after intense political turmoil and the end of the Clone Wars. After the shutdown of the droid army, followed by the slaughter of the other Confederacy of Independent Systems leaders and the Jedi Purge, Palpatine proclaimed himself as Emperor and declared that this would be the "first Galactic Empire", ruling with near-absolute power. A Separatist holdout called the New Confederacy of Independent Systems is standing in the Imperials rule, which makes The Empire bring back returning classics from the Clone Wars to fight against the heroic Battle Droid Rebellion.
Destroyers
Edit
Landing Crafts
Edit
Ground Forces
Edit
Ground troopers
Edit
Tanks/Vehicles
Edit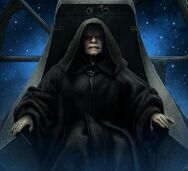 Appearances
Edit
Community content is available under
CC-BY-SA
unless otherwise noted.