New Confederacy of Independent Systems
Political information
Type of government
Head of State
Head of Government
Commander-in-chief
Military Branch 
Executive branch
Legislative branch
Societal information
Capital
Official language

Basic

Anthem

Separatist Droid Army Theme

Historical information
Formed from
Date of establishment

19 BBY

Era(s)
The New Confederacy of Independent Systems, originally Grievous's and Trench's holdout also known as the New CIS, the New Separatists, the Rebellion, or the New Separatist Alliance, is a galactic movement headed up by Trench, a member of the heroic Confederacy of Independent Systems, and Grievous, the Supreme Commander of the Droid Armies which the group is named for. Thought to be dead by most of the galaxy, it came as a surprise when it turned out that this Harch was one of the few surviving members of the Confederacy. After stealing credits from the Imperial Vault of Coruscant, he set out to get support from people across the galaxy in order to overthrow the Emperor and get his revenge. The are the heroes in The Last of the Droids.
Destroyers
Edit
New CIS Droid Army
Edit
Droid Tanks and Droid Vehicles
Edit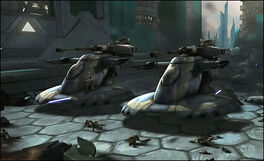 Appearances
Edit
Community content is available under
CC-BY-SA
unless otherwise noted.