New Separatist Droid Army
Unit Info
Name:

New Separatist Droid Army

Founder:
Leaders:
Notable Members:
Headquarters:
Locations:
Historical information
Formed From:
Founding:

19 BBY

Affiliation:
The New Separatist Droid Army or the New Confederate Droid Army is a massive Droid Army built by Harch Admiral Trench used by the armed forces of the New Confederacy of Independent Systems in an effort to secure peace throughout the galaxy during the The Last of the Droids. It comprises Battle Droids from the Trade Federation's army, Techno Union's army and other corporations that allied themselves with Trench's Rebellion movement during 19 BBY.
Army Set-Up
Edit

Battle Droids
Edit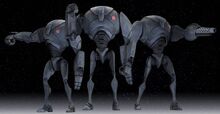 Droid Tanks and Droid Vehicles
Edit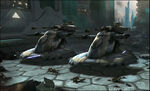 Commanding Officers
Edit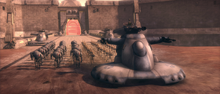 Gathering the Large Army
Edit
Most of the old Separatist Droid Army stayed with the old Confederate Navy. When Trench went to steal credits, he brought the Infiltration Team.
Community content is available under
CC-BY-SA
unless otherwise noted.