Separatist Droid Army
Unit Info
Name:

Separatist Droid Army

Founder:

Nute Gunray
Wat Tambor
Poggle the Lesser
San Hill

Leaders:
Notable Members:

Fenn Shysa
Coburn Sear
Rackham Sear
Alto Stratus
TJ-55
Commander TX-20
TX-21
TA-175
Others

Headquarters:

Various

Locations:

Several

Historical information
Formed From:
Founding:

24 BBY

Fragmentation:

19 BBY

Reorganization:

19 BBY, as Separatist holdouts and later New Confederacy of Independent Systems and New Separatist Droid Army

Affiliation:
The Separatist Droid Army or the Confederate Droid Army was the largest droid army in galactic history that was created and used by the armed force's of the Confederacy of Independent Systems in an effort to secure peace throughout the galaxy during the Clone Wars. It comprised Battle Droids from the Trade Federation's army, Techno Union's army and other corporations that allied themselves with Dooku's Rebellion movement. By the ending of the Clone Wars it is said to be quintillions of Battle Droids.
Command Structure
Edit
Battle Droids
Edit
Droid Tanks and Droid Vehicles
Edit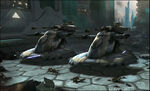 Appearances
Edit
Community content is available under
CC-BY-SA
unless otherwise noted.